Today is a public holiday here in Singapore. Deepavali or the festival of light is celebrated by the Indian community here. My Indian friends like Shoda or Antie Sellam are of course celebrating.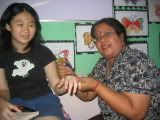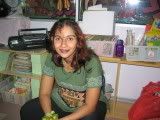 I am interested with this celebration, even though I am a Filipino, not because I also discuss this celebration to my children in the centre as they need to be aware of the different celebrations of people from other races, but because when this day comes, the memories of my first Indian friend come to my mind.

It was in 1992 when I met Shanti. The first time I saw her beautiful face, I then realized that Indian women are indeed captivating. The saree she was wearing then projected an elegant woman. I am used to see Indian girls before, as I had classmates in St Paul who were pure Indians, and from there my prejudices on them were formed. But Shanti was different. She changed my perception of their people.

Shanti invited me to celebrate Deepavali with her husband and son. I then experienced my first Deepavali in Singapore.

Over the years, I met Indian friends. And I could say that there are many things we can learn from their culture that can enhance our day to day living. Why not take a while and read what Deepavali is all about.
Deepavali is the most important Hindu Festival, signifying the triumph of light over darkness and good over evil. It ushers in the New Year for Hindus and is celebrated all over Singapore for six weeks.
Deepavali (also known as Diwali) traditionally falls in the second half of the month of Asvina, the seventh month of the Hindu calendar. During the festival Hindu homes are brightly lit with oil lamps to usher in brightness, good fortune and divine blessings. It's a time of rejoicing as people go to the temple in their best clothes and visit friends and relatives to receive their blessings.
During Deepavali, it is believed that the souls of the departed return to earth, and so lamps are lit to guide them. Light also symbolises goodness, success and other attributes that may be bestowed by the Goddess Lakshmi, consort of Lord Vishnu. The festival celebrates the legendary slaying of the oppressive Narakasura by Lord Krishna, which in turn reconfirms the inherent nature of goodness and its ability to triumph over evil. For this reason it is both a happy time and a magical one. If you are visiting temples during the festival, as at any time, it is important that you dress appropriately and remove your shoes at the door.
*from
www.istc.org
.